Tripawds is a user-supported community. Thank you for your support!
This Sunday we woke up late… 9:30 am. Jake decided he doesn't want his bandage on anymore and started to chew it off. So… since he was scheduled to have it removed tomorrow anyways, we decided to take it all off. The wound looks good… clean… We put on a T-shirt, so he wouldn't lick at it… He seems fine this morning… but still slides on the kitchen floor. He only got a half dose of his pain meds, and seems fine with that.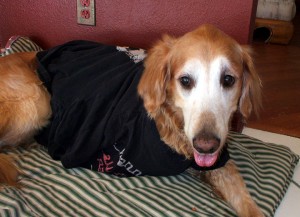 We decided to have our morning coffee on the patio… and took the doggies out for some fresh air. Jake really enjoyed it! First time he got to lie on the patio since this all started.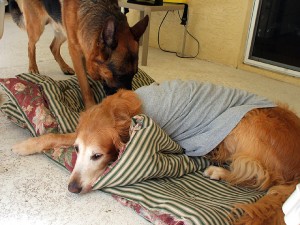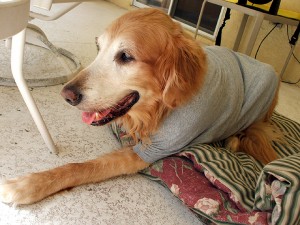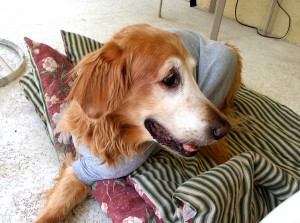 Wolfie was lying nearby… Just a nice relaxing Sunday morning… like we used to have.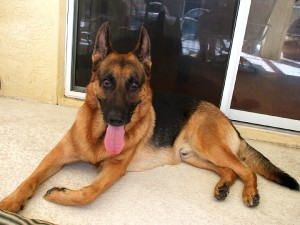 Jake even sat up by himself  to be closer to his daddy!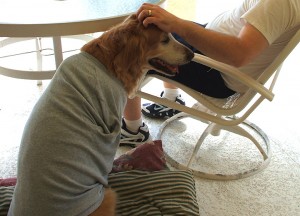 Wolfie was patroling the patio, like he usually does… making sure the coast was clear of squirrels and stuff.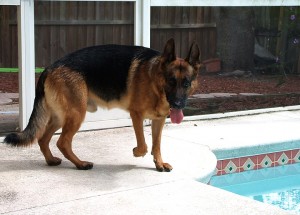 Later on that afternoon, when we left Jake alone for just a few minutes, we caught him licking away at his T-shirt. Oh no! Out comes the E-collar…  Guess he's going to have to wear that uncomfortable thing whenever we have to step away, or sleep.
Tomorrow he goes back to the vet to examin his incision… Just a little bit of oozing from one area, otherwise looks great!