Tripawds is a user-supported community. Thank you for your support!
All of us finally slept through the nite. Yay! Jake seemed a little more tired today compared to yesterday. Went to the grocery store in the morning to pick up a few things and saw a cute stuffed duck and squirrel. Jake just loooooooves squirrels! So I had to get them. When I came home and unpacked their new toys, they were so excited, especially Jake. He jumped up (gee, I though you were tired) and started wagging his tail and hopped over a few steps towards me to grab his squirrel. Then he hopped back to his bed and started playing with it!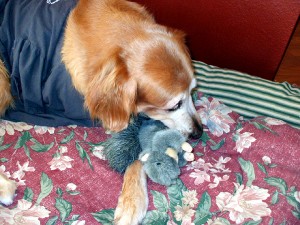 Wolfie jumped up on the couch to play with his ducky. I swear they act like little kids!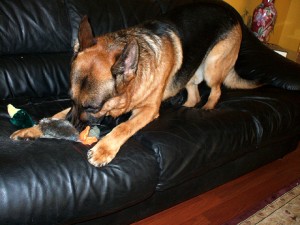 After that little burst of energy, Jake seemed pretty tired and slept the rest of the day with his squirrel lying next to him. 
I'm hoping that tomorrow Jake will start getting some more of his energy back… In the meantime, I think I'm starting to come down with a cold or something…