Today is 9 days post-op. Yesterday I removed Jake's bandages… his incision looks good, except for a little redness and oozing from a small area. Last nite he hardly ever tried to lick at the incision… but when we went to sleep, we put on his E-collar, just in case!
This morning, Jake was hopping around in the kitchen. Still pretty slow, but hey… it's only 9 days post his big surgery!
This morning we all enjoyed our coffee on the patio, before it got too hot and humid. Can't stand this Florida weather!!! I removed Jake's T-shirt (to wash it) and to let his incision start drying out.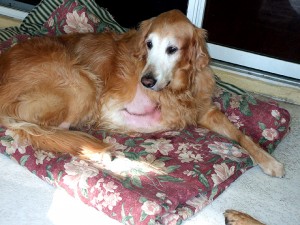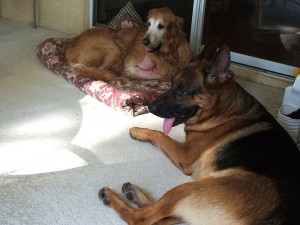 Later on this afternoon, it was time for Wolfie to go play in the pool…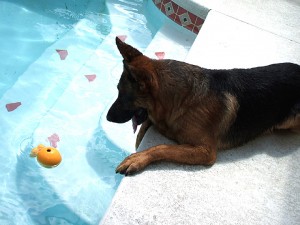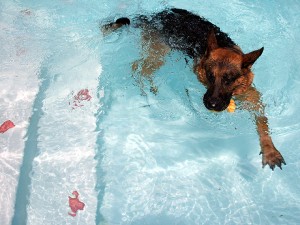 Poor Jake had to stay indoors, and watch. As soon as he heals, he is going swimming too! Here he is wearing his Kiss T-shirt.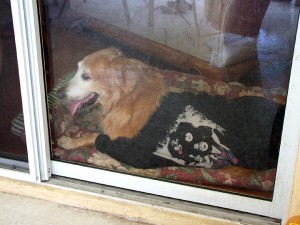 Wolfie taking a break… and enjoying the hot sun!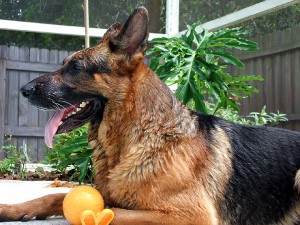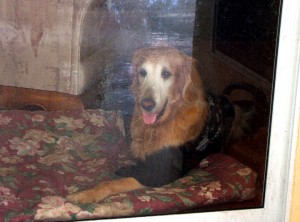 Later on this afternoon, Jake did some more hopping around… a little faster now. He's doing better and better! I'm so proud of my big boy!!