Tripawds is a user-supported community. Thank you for your support!
Jake and Wolf went swimming this afternoon… Jake hasn't been feeling to well lately (problems with his back legs?)… but he sure perked up when it was time to go swimming!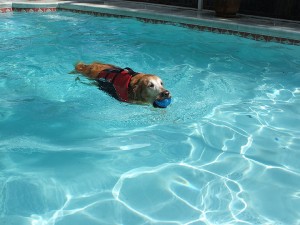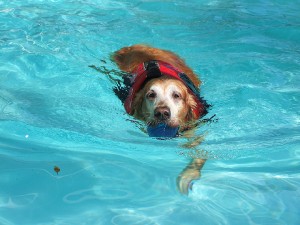 After swimming around 8 laps (wow… that's more than me!) Jake decided he was pretty tired… so he laid around on the patio, watching his brother Wolfie play.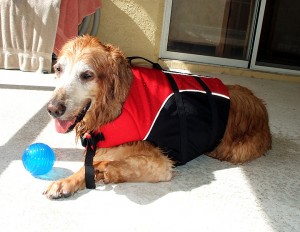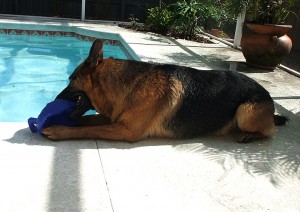 Wolfie has completely destroyed his blue Jolly ball… but he doesn't seem to care… plus, it still floats, ha! ha!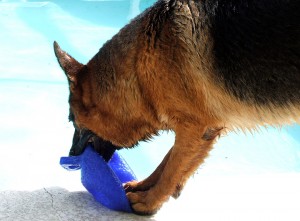 Since Jake wasn't going back into the pool… off came his float coat… Ahhh, much better…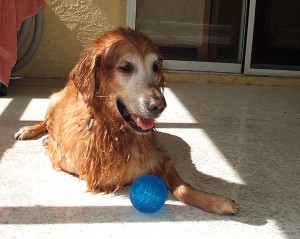 Such a lovely day outside… Jake is getting sleepy…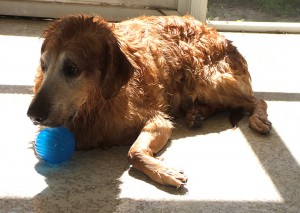 Oh, what's that? A butterfly or a lizard on the screen??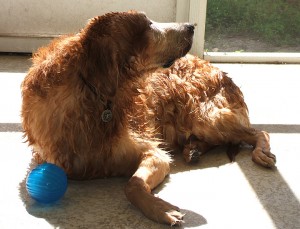 Awwwww…. It's just my brother Wolfie… trying to get some attention from mom…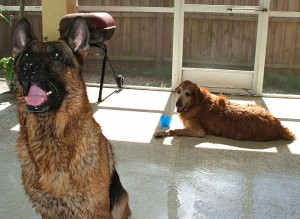 Think I've had enough sunshine and fun for today… I'm pooped and going to take a snooze.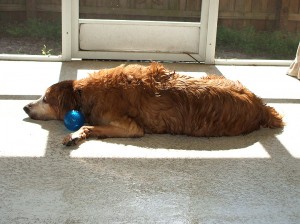 Update: Jake is still having problems with some weakness in his legs. I thought that maybe swimming might help loosen things up… but it hasn't… Maybe it's even worse. Guess we'll see tomorrow how he's feeling. Here are some pictures we took last nite with the cell phone (sorry, poor quality) but it shows Wolfie sleeping next to his brother Jake.