Tripawds is a user-supported community. Thank you for your support!
It is with such deep sadness and regret that I write these words… Yesterday morning, Jake lost his battle to bone cancer. He lived his life to the fullest… in spite of this horrible and deadly disease…
The last week of his life, he started having difficulty with weakness in his back legs. The last few days, he was no longer able to walk on his own. We had to use his harness to lift him and help him walk. The last Sunday afternoon/evening of his life, he started having extreme pain in his back area whenever he tried to move. The pain meds were no longer effective. The cancer had most likely metastasized to his spine.
On Monday morning, we brought him to the vet and we said our final good-byes… It was so difficult for us… but Jake is no longer in pain.
Jake lived almost 8 weeks after his surgery, and almost 10 weeks since he first broke his leg and received the horrible diagnosis of osteosarcoma (bone cancer). He recovered from his amputation surgery fairly quickly, within a week or so and since then, most of that time was spend hopping around (like a big golden bunny), playing, eating, swimming and cuddling with us.
Jake was one of the sweetest dogs you will ever meet!! He was a very loved and happy dog. We have no regrets in having the surgery for Jake… It gave him almost 8 more weeks of quality time spent with us. 
For those of you dealing with a similar diagnosis, please join http://tripawds.com/. You will find a wealth of valuable information and alot of loving support from others going through the exact same thing as you.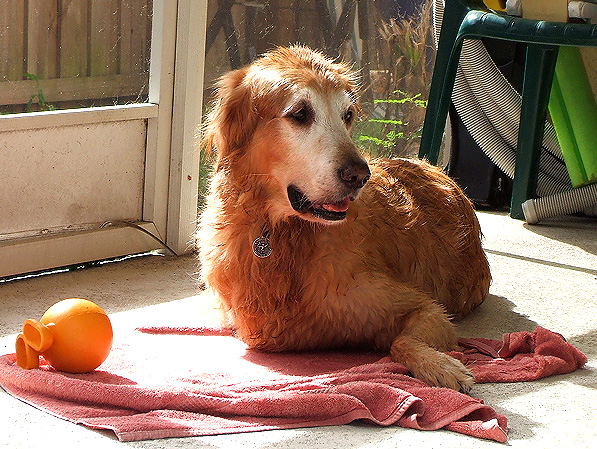 Our sweet angel Jake, we will never forget you… and we will always love you!!! Your mom and dad, Marguerite & Jacques, and your 'little' brother, Wolfie…
Rest in peace our sweet golden angel… and safe passage over the Rainbow Bridge.