Tripawds is a user-supported community. Thank you for your support!
Well, it's been a little over a month and a half since Jake had his front right leg amputated, due to osteosarcoma and he seems to be doing well so far.
He still gets pretty tired after just hopping from one end of the house to another… but he has a great appetite, is alert, and plays with us and Wolfie in the evenings. He's been on meloxicam (NSAID and cox-2 inhibitor) for almost a week and a half now. He vomited once, 5 days after starting it, and we put him on daily pepcid AC, and that seems to have stopped that. I haven't noticed his back legs shaking anymore for the past couple of days, so that's a good thing. I'm going to have to trim his nails tonite… and hopefully that will help him from sliding too much on our wood and ceramic floors.
He's just finished his dinner… and hopped all the way into the office to hang out with my while I write in his blog. He is such a sweetheart…
Here's Jake chewing on his poor squirrely in the kitchen…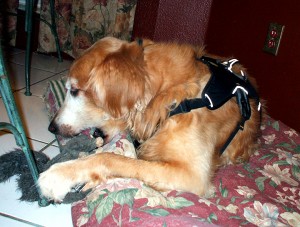 Wolfie has his own teddy bear to chew on…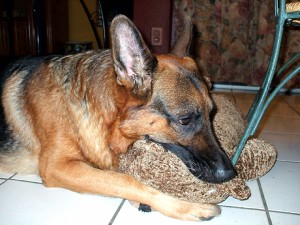 So, that's the update for now…